We had conducted a bicycle race for the disabled as part of the Mysore Dasara Festival. We had shortage of bicycles and the participants were unwilling to share the cycles. Finally it was decided that losers will get the consolation prize.
We came across the issue of bicycle design here:
These are some of the issues that physically challenged cyclists have:
1. So hard to ride, one hand for controlling the direction another for pedaling.
2. Wheel is big, they need to be smaller.
3. Frame size for carrying a single person is huge.
4. No gears to change speed.
5. Cannot go in narrow roads - width is too much.
6. No water holder or pipe to prevent dehydration.
We have started investigating into how this can be improved.
Here is one such design for a hand driven bicycle.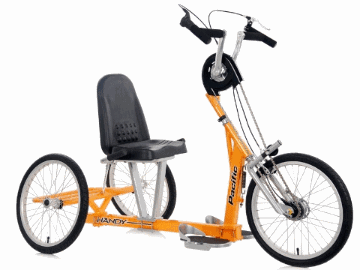 Source: Bike-on.com
Any other better designs to help the physically challenged would be welcome!