Introduction of Bus-based Public Transport System in Tumkur and Hassan cities, Karnataka
Gubbi Labs worked with the Karnataka State Road Transport Corporation (KSRTC) to plan for introducing bus-based public transport system in tier-II cities of Karnataka. To start with, Tumkur and Hassan were studied and the Labs provided technical support for their introduction. The services were introduced during February 2011 and March 2011 respectively at Tumkur and Hassan. Gubbi Labs also provided on-site training and orientation to the KSRTC staff especially in catering to changing paradigms of urban transport system as against long-distance inter-city services.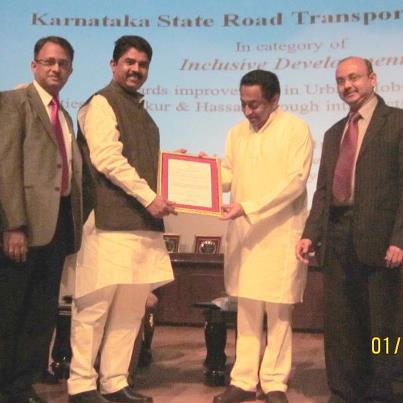 KSRTC bagged "Award for Excellence -2011" for providing Sustainable Mobility for Medium and Small towns such as Tumkur and Hassan, Karnataka under the category of 'Best Practice in Urban Transport for inclusive Development' by the Ministry of Urban Development, Govt. of India during 4th Annual Urban Mobility Conference held during December 2011.
Related blog posts: